Can you believe it! Google finally did something to support the search engine optimization community. That being creating the new Google disavow links tool. This has been a heavily anticipated piece of functionality. Like many SEOs, our VP of Business Development / Director of Sales has been discussing implementing this for at least the last three years.
"I'm happy to see Google has finally provided a mechanism by which websites can reject low-quality inbound links. I have encountered multiple webmasters who believed their sites had been maliciously targeted with bad links, resulting in penalties for Google. Whether bad links have negatively impacted their sites, the ability to "disavow" links will provide peace of mind across the SEO landscape. I have been a strong advocate for a disavow link tool for many years, and I'm glad to see Google provide such a tool. As they say, 'Better late than never!'"
We know other SEO experts have been waiting for this as well, but Arnaud has been particularly adamant about it, as you can infer.
What is the Google Disavow Links Tool Exactly?
According to Google, this is what the tool is for, "If you believe your site's ranking is being harmed by low-quality links you do not control, you can ask Google not to take them into account when assessing your site."
So how do you use the Google disavow links tool? Let's walk through the steps below. It's pretty easy…
Step 1: Choose a Site and Hit Disavow
Step 2: Click Disavow Links Again
After clicking on the Disavow button, this is what you get. Google says, "This is an advanced feature and should only be used with caution. This feature can potentially harm your site's performance in Google's search results if misused. We recommend that you only disavow backlinks if you have many spammy, artificial, or low-quality links pointing to your site and are confident that the links are causing issues."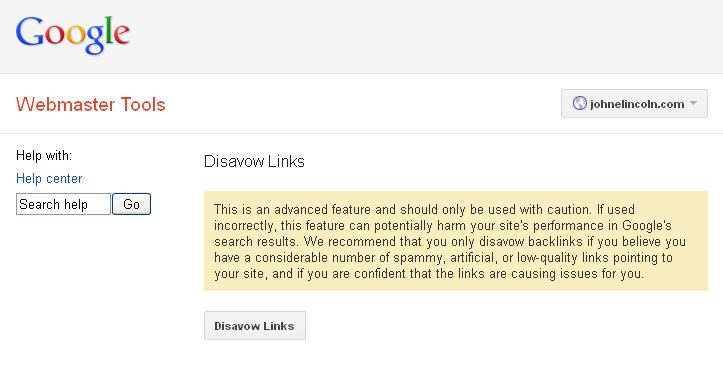 Step 3: Choose a File and Hit Submit
As a next step, you are asked to upload an Excel file containing the links you want to disavow. You can, of course, generate this file from the backlink report in Webmaster Tools.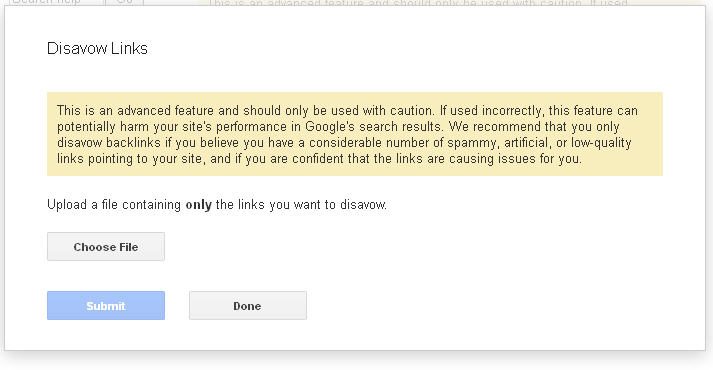 So that is it! You can now disavow links through this new Google tool. The tool can be accessed here: https://www.google.com/webmasters/tools/disavow-links-main.
Danny Sullivan on Search Engine Land says, "Cutts warned that the tool should be used cautiously. He also warned that publishers should first try to remove links they are concerned about pointing at them by first working with site owners hosting links or with companies they may have purchased links through." So make sure you don't jump in too quickly.
Essential Points on Disavowing Links
Disputing links with the Google Disavow link tool will not be immediate; it will take weeks.
You can only disavow 2MB of links at a time.
If you make a mistake in the disavow process, it can take weeks to fix and can hurt your rankings.
This tool was mainly made for people hurt by Penguin or suffering from negative SEO.
What do you think about the new Google Disavow links tool?