SEO Inc was awarded Clutch's top Advertising & Marketing Agency
SEO methodology is essential for any company looking to market to consumers effectively. SEO Inc. uses SEO as a foundation to develop unique digital marketing campaigns for B2B companies. SEO can give your company a competitive edge over others, and a basic understanding of it is very important in today's world. We are continually adapting to new search engine outlets ranging from internet engines to social media platforms because consumers use multiple platforms to research B2B companies. We are so excited to be named a leader among the top SEO companies in San Diego on Clutch!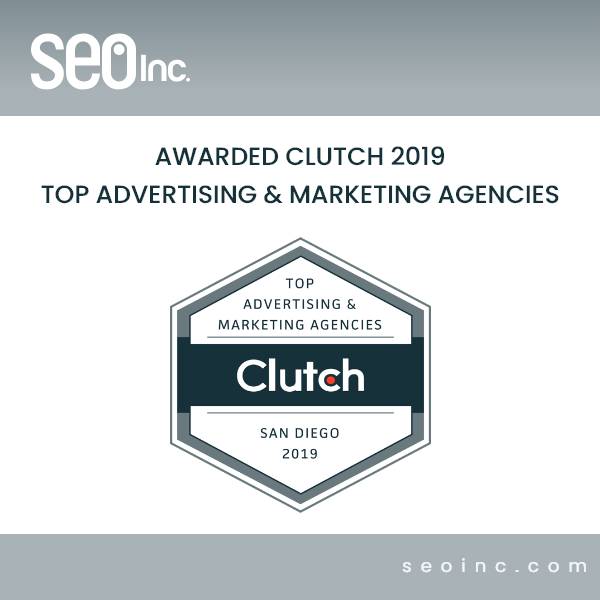 "We are excited to see how the local technology, design, marketing, and outsourcing industries in San Diego grow and how the leading companies announced today to contribute to this growth," said Business Analyst Katie Wonders. Clutch published the full report and list of leaders on 26 March.
Based in Washington, DC, Clutch is a B2B ratings and reviews platform dedicated to connecting small, medium, and large businesses similar to service providers that will deliver quality solutions. Their rankings are based on a unique methodology. For example, SEO Inc. was evaluated based on our technical capabilities, results we've driven for clients, and client feedback and ratings—services listed on their site range from IT services to advertising and marketing. The reviews published in our Clutch profile are top quality. We've received 4.6 stars out of 5 stars with 16 reviews! Here are a few notable excerpts:
"They're an honest, hardworking team with exceptional abilities." – Jonathan Barnett (CEO & President, Oxi Fresh Carpet Cleaning)
"After the second year, our business more than quadrupled." – Louis Levy (Vice President, The Levy Group)
In addition to our presence, Clutch, we appear on its sister site, The Manifest. This platform publishes statistical reports and business news about the technology space. We are so excited to be named among the top SEO consultants in the world! We're also looking forward to leveraging Clutch's new site, Visual Objects, where agencies like us can post their portfolio for prospective clients and other businesses to see. We have also won other awards and reviews for SEO Inc 2019
We are very proud of our ranking and reviews on Clutch and look forward to growing our presence even more, setting ourselves up for future success. Contact us today if you want to improve your online visibility with verified SEO practices!