For most of our clients, putting a proper Search Engine Optimization Strategy in place will increase their site's rankings, traffic, and overall exposure. Their subsequent request is usually, "Okay, now how can we maximize our conversions and generate more revenue?"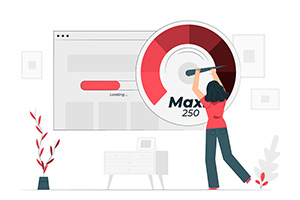 Recently SEO Inc. has been proactively working on overcoming this major hurdle on our client's behalf. The results are as follows: SEO Inc. has developed a custom conversion rate optimization (CRO) strategy light years past the traditional button placement and shaded borders that some companies are selling you. We attacked the issue right at the point of entry—site speed. After implementing our SEO services, our client's site experienced a tidal wave of positive changes.
What We Discovered
SEO Inc. discovered that the client's page load time averaged 4.5 seconds. Working off the research that an average of 1-second delay in page load time can result in a 7% loss in conversions, 11% fewer page views, and a 16% decrease in customer satisfaction (source: Aberdeen Group), we determined that the client stood to gain $1,100,000 in revenue.
Implementing our CRO strategy would not only increase the client's page speed. Still, it would also lead to more extended visitor interactions, generate more leads, lower bounce rate, increase PageRank score, and get more pages indexed by Google.
A 1-second delay in page load time = 7% loss in conversions, 11% fewer page views, and a 16% decrease in customer satisfaction. In dollar terms, if your site typically earns $100,000 a day, you could lose $2.5 million in sales this year."
What We Did
The usual CRO methods include UX, color, and moving buttons. These can enhance the user experience but offer only slight increases to CRO. SEO Inc. resolved to go deeper.
We moved the client's website to a high-performance content delivery network (CDN). This would prevent and block excessive bot crawling and fake Googlebot crawling, both of which could be slowing the website down and artificially skewing visitor statistics such as bounce rate. We also utilized server-caching modules that would store most of their website content locally while delivering the website's dynamic content much faster. Additionally, we optimized each image on the client's site to perform at the fastest speed possible to decrease overall load time. SEO Inc. then implemented an array of our proprietary optimization server-side programming to complete a blazingly quick response, TTFB, and load times.
The Results
Implementing SEO Inc.'s strategy provided results within days. Over a week, the client saw a dramatic improvement in their online presence. In addition to saving the client's overall bandwidth, we are happy to report that our solution had the intended effect on the client's website:
53% drop in bounce rate.
2.2 seconds faster page load time (currently loads in 1.2 seconds)
78% increase in monthly page views
25% increase in visitors staying on site longer than 5 mins
And the bottom line: a projected $1,100,000 increase in revenue
If you want to see these results for your website, click here for a free evaluation.