Want to know SEO Inc.'s Top 10 Ranking Factors in 2016? Now's your chance to hear them from us personally!
SEO Inc. is holding a webinar with our friends at SEMrush next Tuesday, March 22nd to give you the answers.
Starting at 2:00 PM EST, all will be revealed as Garry Grant, CEO and Founder of SEO Inc., and Sergio Stephano, VP for Business Development, walk you through the 10 factors you need for search ranking success.
But only if you register now!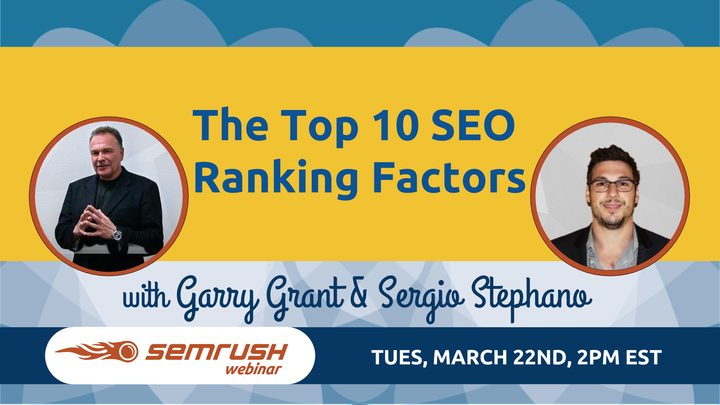 "So… What Ranking Factors Can We Look Forward To?"
Obviously we don't want to give away all our secrets just yet. But we understand you need some incentive to carve out an hour of your day. So here's a little rundown:
Link Quality & Metrics – The backbone of search engine optimization
Website Content: Quantity or Quality?
Social Presence – Impacts of social engagement on SEO
E-A-T Principle – The importance of authoritative sites
Advanced SEO tips and tricks
Tools – Important tools to stay relevant in today's SEO landscape
Hands-on SEO Audit using SEMrush
Need more convincing? Here's why you should absolutely attend our SEO ranking factors webinar:
We'll be sharing some pretty big surprises.
Factors like website content optimization shouldn't surprise anyone. And the E-A-T principle is a big one as of late. But we're keeping our top ranking factors a secret. At least, until the webinar goes underway. Don't you want to know what they are? You've got to hear what we have to say about the importance of links.
Hear from 20+ year SEO industry veteran.
SEO Inc. has been a leader in search since its inception in 1997, and our CEO, Garry Grant, before that. Garry has seen it all—Google's rise to dominance, and everything in between. So when we're offering up a chance to learn about the top 10 ranking factors 20 years after its beginnings, of course you'd be wise to listen up.
But don't just take our word for it. Check us out and you'll hear what these Google ranking factors are—and why they're so important.
Sign Up Now Before It's Too Late!
Here's how to register:
Visit the webinar registration page here.
Fill out the required information.
Schedule your calendar for an hour of expert SEO knowledge.
That's it! Then all you have to do is wait for Tuesday the 22nd to arrive. For us, that day can't come soon enough. We're excited to share with you all we've learned about what SEO services you'll need for website success.
See you Tuesday!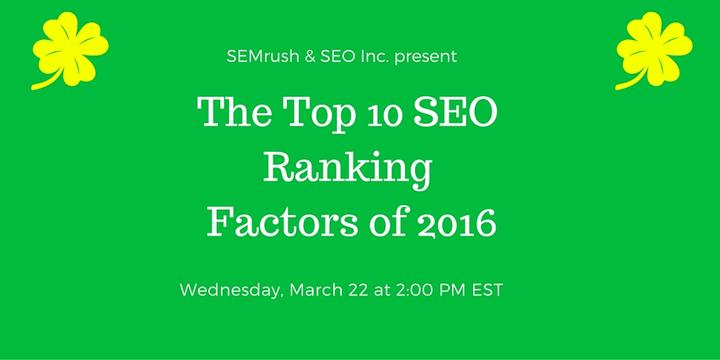 —
The TL;DR Version
Who: CEO Garry Grant, VP of Business Development Sergio Stephano
What: Top 10 Ranking Factors in 2016
Where: SEMrush
When: Tuesday, March 22, 2016 @ 2:00 PM EST
Why: To get your site #1 on Google's search rankings!