Everything you Need to Know About the New Twitter
On September 14, 2010, Twitter unveiled the new and improved Twitter.com interface. But why the change? Well, according to Twitter, the new interface is "faster, easier to use, and richer." But more obviously, Twitter has approximately 160 million users, and only a fraction of that number use the web interface itself. Instead, many rely on other Twitter clients like Tweetie or TweetDeck. The redesign's purpose is all about keeping users on the Twitter.com site for longer, and by refocusing on more entertaining user experience, they can accomplish just that.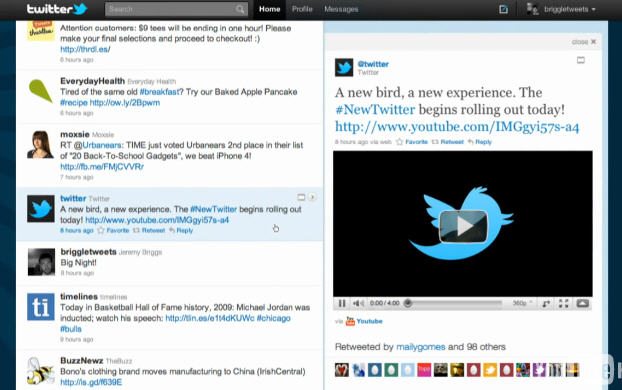 Similar to how Facebook went a little 'Twitter-esque' last year with its News Feed, now Twitter has integrated some of the more multimedia aspects of Facebook. The first thing you will notice about the new Twitter design is its expanded two-columns of information. The column on the left will still contain tweets, while the right side column now offers additional details about those tweets as well as embedded videos, photos, and user information.
Thanks to some new partnerships with YouTube and Vimeo (among others), now you can tweet a link to a video, and it will be automatically embedded and ready to play in the Twitter stream.  This is a considerable change for Twitter, and it seems to have moved them in the direction of a social networking destination rather than it's self-defined "information network," news-on-the-go façade. Now Twitter users can spend all day viewing tweeted videos and photos without ever going off-site.
The new Twitter also displays a global search bar that allows you to locate people and tweets from anywhere on the site. You can also Tweet from anywhere on the new interface just by hitting "n," and you can find a whole slew of other shortcuts for mouse-less Twitter functionality.  Mentions, Retweets, Saved Searches, and Lists are also easily accessible next to the Timeline tab.
While the left column remains the same with the 140 character tweets, the left column now opens up to more information about the person who made the tweet as well as a list of other relevant tweets with the same hashtag. You can dig deeper and deeper without getting lost on the site. As far as the profile pages go, after recognizing how users use their accounts as part of their identity, Twitter moved to place greater emphasis on avatars and user information.
Overall, the new Twitter interface is quite appealing and will keep users around longer. And if you're not one of the lucky few to already have the updated version, wait. Twitter decided to do a "gradual rollout" over the next few weeks, so be on the lookout!