As Google continues to add variety and make the search engine results pages (SERP) increasingly dynamic, business owners and search engine optimization (SEO) professionals alike can quickly become overwhelmed. It may not seem like it at first glance; these changes present several advantages.
With all of the SERP variety, there are new ways to gain more exposure and search, so the ultimate goal of SEO is no longer to rank number one. The fact of the matter is that because of these dynamic search features like Featured Snippets and People Also Ask, the returns on top organic rankings are diminishing.
As Google continues to add more elements to the SERPS and takes action to include as many paid ads into the SERPs, that number one ranking isn't what it used to be. As such, SEOs and business owners have to adjust and adapt. One way to do this is to aim for the PAA box on as many keywords as possible.
Google's People Also Ask or PAA?
People Also Ask boxes are a dynamic feature from Google that contains the set of questions related to the original search query.

Look familiar?
Once a user clicks one of the questions, the box expands to show a text in if it was a brief answer to the question along with the source URL from where the text was extracted. There is also a shortcut link for performing another Google search for this particular question.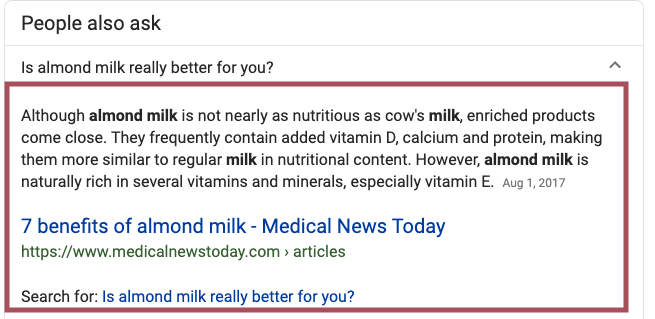 People Also Ask box contains initially four questions. But as people continue to click on a PAA question, two or three more items are added to the box. PAA boxes are, therefore, ever-expanding with new questions infinitely being added to the box.