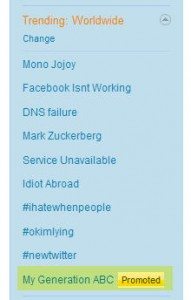 It's funny to think how Twitter has evolved. At the beginning everyone thought it was the dumbest thing ever. Then people started recognizing its potential and all the fun it offered. At the same time we all quietly laughed as we imagined the money being wasted by the company running the social media site. But to be honest, Twitter today is not what it was during its infant stages and losing money may soon be a thing of the past for the social media giant.
Continuing to Step Up Social Media Advertising
Twitter continues to add to its monetization efforts and that is good news for companies interested in social media advertising. Do you know what Promoted Trending Worldwide Topics on Twitter are? If so, you can stop reading this post. If not, there is a picture of the Twitter advertising tool on the right.
As you can see, the My Generation ABC promoted trending worldwide topic has a little yellow box next to it that says promoted. Kind of makes you NOT want to click on it right? But at the same time it peaks your interests…
My Generation is a TV show which will be premiering on ABC on Thursday, September 24, and apparently they are using Twitter trending worldwide advertising as an outreach. So how does this work? Well, Twitter has the ability to show specific hash tags and trending topics to whomever they like. All trending topics, which are just popular conversations, are featured in this blue sidebar. This area is usually reserved for the biggest conversations taking place on Twitter at the moment, however, now you can advertise here!
The value of this advertising space on Twitter is that it gives you the option to click the promoted trending topic and easily join the conversation. What amazed me was the level of success this campaigned seemed to be having in a very short time. After advertising for only one day, at least that is how long this hash tag was visible in my sidebar; the @mygenerationabc account already had 351 followers. In addition, the hash tag query was full of conversation! For those of you who do not know what a hash tag is on Twitter, it works like this. If you place a number sign (#) in front of any word on Twitter it then turns that text into a link. If you click on that link, it searches Tweets for other people talking about that text or keyword.
Twitter promoted trending topics are here folks. What do you think? Do you like them? Would you use them for your brand or promotion? Comment below!