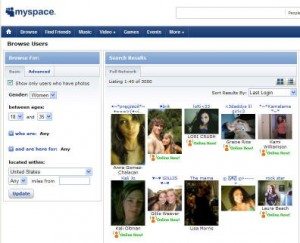 More and more people are beginning to ask themselves where they should market their business in terms of their overall social media marketing strategy. Facebook seems clear, I mean over 50% of the marketing articles you read online violently scream MARKET ON FACEBOOK right in your ear. But what about MySpace?
MySpace is the second biggest social networking site online behind Facebook, and stats show the average global time spent on social media sites is up 82% year-over-year, but how does MySpace fit into that data?
According to Nielsen Wire, global web traffic to the site has shown a steady decrease since December 2007 but that doesn't mean the site is doomed.
How to Market on MySpace
To get started, you simply create a user page and send out friend requests to people in your area and/or target market. Your main objective is to increase your number of friends and exposure to either yourself or your business as a whole. One way to help make customers more aware of your business is to update your page with press releases and articles. You can also update your MySpace page with your latest blog posts. Posting blogs not only keep your friends engaged, but they also keep your page current and will deem your business more credible.
When engaging in MySpace social media marketing you need to identify your audience; keeping age in mind. In 2009, the site saw its user base shift toward younger audience segments, with people age 24 and younger comprising 44.4% of its audience. On the flip side, Facebook's demographic of 25-34 year olds accounted for 23% of its 2009 audience. When dealing with younger segments, you need to know their tastes, likes, dislikes, and opinions in order to market your business successfully. Keep this in mind when you are posting. Because if most of the users are younger than 24, you may want to send a different message than you would in another distribution channel.
What to Consider When Marketing on MySpace
In terms of your business taking the MySpace social media marketing route, there are some things to be aware of. For one, MySpace doesn't provide a "business" profile but rather a "personal" profile; meaning the page ends up looking just like the average person's profile. You can, however, customize your page using cool layouts, different fonts, and themes that reflect "you". Another point to keep in mind is that MySpace can be a very lucrative market for advertisers in the right industry.
Top Industries for Marketing on MySpace
Considering MySpace Music has grown 92% in the past year, marketing on MySpace is definitely the way to go if you're in the music industry. With the ability to upload audio creations and view people's comments, musicians can become recognized more quickly and get a feel for what their target audience is enjoying. Artists are also able to add rich content such as videos, photos, and audio to their pages. So for music marketing, MySpace is a MUST.
Is Marketing on MySpace Growing?
There is a serious lack of buzz surrounding MySpace right now. More and more people are deleting their accounts and switching over to Facebook every day. Facebook makes it extremely easy to connect with friends, family, and co-workers; making the decision to switch that much simpler. While many people are switching, MySpace is still very large and an excellent option for certain industries.
The Final Word for Marketing on MySpace
I'll let you decide if marketing on MySpace is the way to go…so here are the facts.
There are currently about 18 million active users on MySpace, but well over 100 million accounts.
MySpace's traffic is dwindling; however it is still the second biggest social networking site online.
It offers many unique features to users' profiles and allows rich content to be implemented into their pages.
Many businesses have a presence on the site and it is easy to build a following.
In the end, it all basically boils down to the fact that Facebook is dominating the social network community. Granted while MySpace is still becoming more popular with younger audience segments, its number of users doesn't come close to that of its competitor.
Which route will you take? Is it worth it to you to market on MySpace?