SEO Inc Attends Search Engine Strategies
For those of you who follow the SEO Inc. blog (the blog you are on right now), you know that we went to Search Engine Strategies (SES) San Francisco last week. Here is a quick list of how it all went down.
Great Speakers
Good Food
Met Lots of People in the Industry
People Love the SEO Inc. Booth Girl
A Massive Prize was Given Away
I'd like to focus on the last two items on this list if that is OK…
So the gorgeous booth girl, or the very nice women dressed in a boxing type Halloween costume, was there to promote our special giveaway (and our search engine optimization, social media marketing and reputation management services of course). What was the giveaway you ask? How about hotel accommodations, and tickets to a boxing match in good old Las Vegas! For those of you who are boxing fans, the tickets are to the Juan Manuel Lopez vs. Rafael Marquez fight. The fight was actually recently postponed. You can read about that .
During the event we collected cards. Then, at 2:00pm sharp on Tuesday, August 17th, we announced the winner. The buzz around the giveaway was really something special. You could tell that everyone in the crowd was really hoping to win. We pulled the first card and the winner wasn't there to claim the prize. We then pulled the second. No one there to win, again! But the third time was the charm!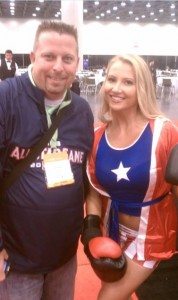 SEO Inc. would like to say congratulations to our winner, Philip Cory! You are going to Las Vegas to watch the Juan Manuel Lopez vs Rafael Marquez fight!
A little news about the winner: Philip Cory is owner of Treatment USA, a company that assists addicts in getting the help they need to excel in their lives. As a nationwide company, Treatment USA helps people find sober living, deal with eating disorders and fight other forms of addiction.
SEO Inc. would like to thank everyone who stopped by the booth to talk to us. I for one know that I talked to a lot of very smart, innovative people in the industry. For the many of you who request proposals, we are working diligently to analyze your site right now.
If you didn't make it to this event, we look forward to seeing you at the next. SEO Inc. will be announcing the next industry event we will be attending soon.
Thank you again!
– SEO Inc.
PS. Here is a pic of the SEO Inc. team from the show. From left to right: John E Lincoln (me), David Hall (one of our killer SEO Consultants), Klaudia (Our model friend), Meera Gupta (Director of Marketing at SEO Inc.) and last but not least, Jay Dunigan (an expert and knowledgeable SEO Consultant).