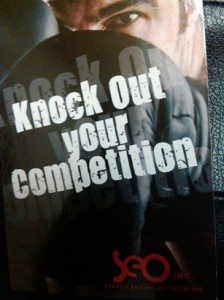 SEO Inc to Attend Search Engine Strategies 2010
Well it's that time again! SEO Inc. is packing our bags and heading off to San Francisco for Search Engine Strategies San Francisco, 2010!
For those of you who haven't heard of SES, it's an industry leading event for all things Internet marketing. SEO Inc. will be located on the expo floor Tuesday, August 17 and Wednesday, August 18th, and boy oh boy, do we have something cool to offer you!
Those of you who come by and see us will automatically be entered into a drawing to win a Vegas vacation along with seats to a premium boxing match!
SEO Inc. will be located at booth #523. The drawing will take place at 2:00pm on Wednesday the 18th, so make sure to come see us beforehand. Not only will you get a free site analysis and learn about the latest in SEO, PPC and social media, you'll also get fun giveaways and be entered for this amazing drawing!
I'll be there myself, so please make sure to come and say hello!
Look forward to seeing you there.
John E Lincoln
@johnelincoln
Director of SEO Consulting & Social
SEO Inc.
More information on Search Engine Strategies San Francisco 2010
Now in its 12th year, SES is organized by its Advisory Board and the leading online marketing publications Clickz and Search Engine Watch. The conference will draw thousands of marketers and agency professionals who will attend sessions and labs focused first and foremost on education (no sales pitches!) covering Search Marketing (including SEO, PPC management & Social Media), keyword research, local advertising, mobile engagement, link building, duplicate content, multiple site issues, online video, site optimization and usability, in addition to high-level strategy, keynotes, an expo floor with 100+ companies, networking events, parties and more.