Google released remarketing to Adwords advertisers in March of 2010 and since that time it has quickly become a standard element of most marketing campaigns. Most marketers at this point understand what remarketing is, but few seem to be aware of the controls at their disposal to take it to the next level. What follows are a set of best practices that will help you improve brand perception and maximize the effectiveness of ad spend.
Minimize The Creepiness Factor
A basic Adwords remarketing campaign will follow your prior site visitors across the Web, serving the same ads over and over on any of the (sometimes shocking) Web pages they visit within the Google Display network. Both of these factors – excessive ad repetition and presence on pages with questionable content can contribute to the creepiness factor; a feeling of being stalked by an advertiser. Thankfully, both of these factors are under your control with features available within the Adwords interface.
Implement Frequency Capping
Limiting impression frequency is a quick and easy first step toward minimizing the creepiness factor. Simply navigate to the campaign settings and scroll down to "Ad delivery: Ad rotation, frequency capping" within Advanced settings. The industry standard is a cap at three impressions per user per day. Three impressions is a good baseline, but you should test a range of 1-10 impressions to find the best fit for your particular audience.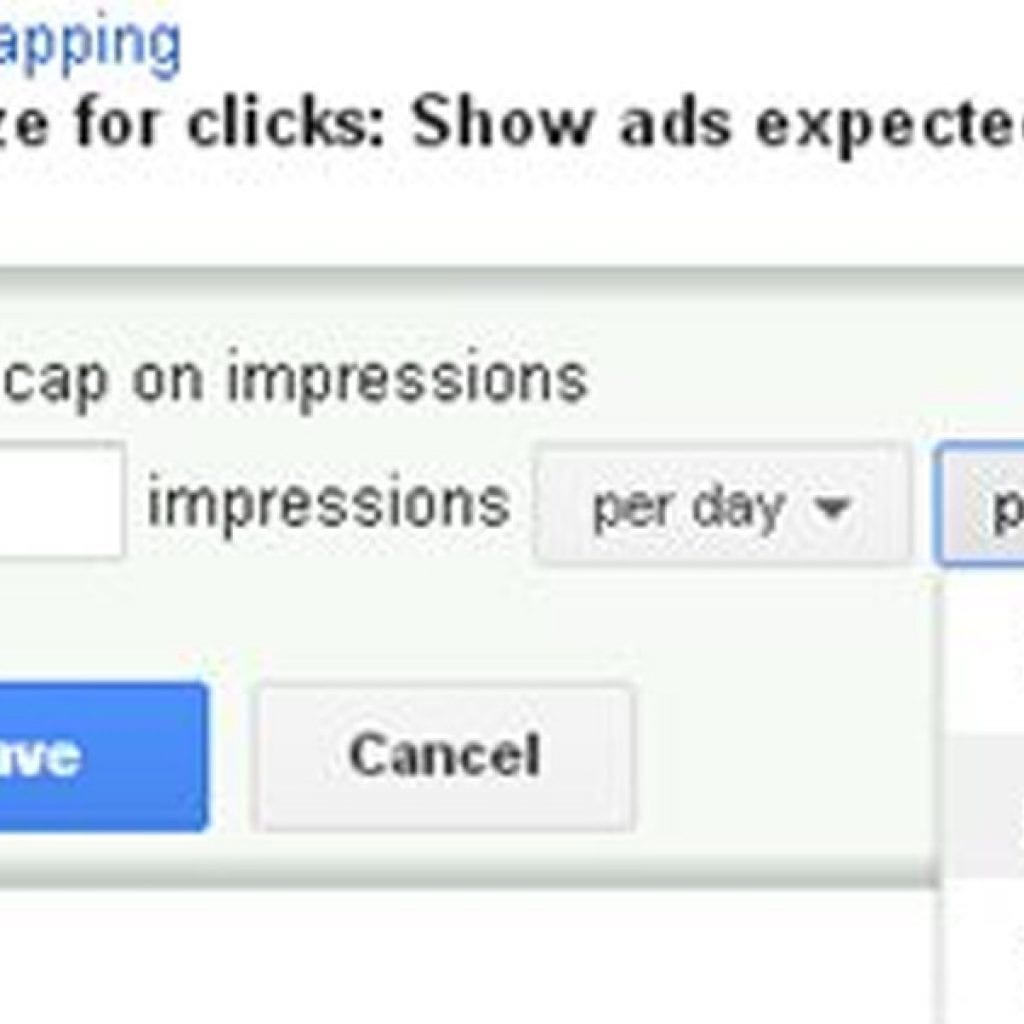 Add Exclusions
There are a lot options for controlling your presence on web pages that don't fit with your brand image. The first step should be use category exclusions found by clicking the "Exlusions" link at the bottom of the page within the display targeting tab. Categories that you may want to exclude include:
Juvenile, gross & bizarre content
Profanity & rough language
Sexually suggestive content
There are also a number of additional exclusion options such as parked domains, forums and more. If your ads are already running then select a time range of one month or more and use the performance data to help determine which additional categories to exclude.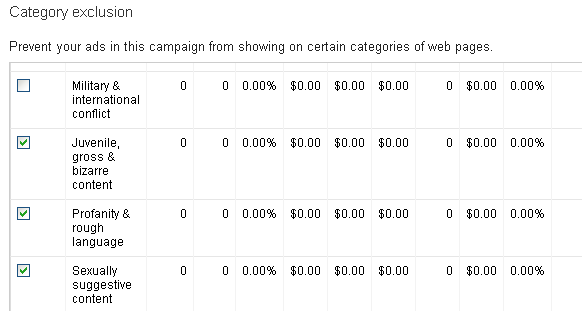 The category exclusion tool is likely sufficient for many advertisers, but if you want more advanced control you can utilize any of the following additional exclusions:
Display Keywords
Placements
Topics
Interests
Gender
Age
Topics are a simple and good solution for limiting your ads from certain types of websites. As an example, if your company wants to maintain a professional image you may want to keep your ads off tabloid and celebrity gossip websites.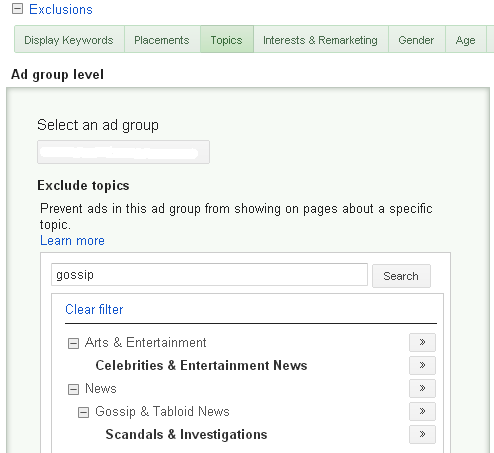 Segment Your Audience
Each of your site visitors is unique – many spend time studying specific products or services, some bounce quickly; others abandon their shopping cart. A treasured few even do what we want and make a purchase. The important take away here is that the same remarketing ad will not be relevant to each of these groups. Users should be segmented so that they can be served relevant and personalized ads based on the actions they took on your site. Examples of useful segments include:
Visitors to specific products or services
Shopping cart abandoners
Converted visitors
Until recently, implementing such segmentation was a complex task of generating unique remarketing tags for each desired segment and placing these codes on the corresponding pages within the site. That all changed with an update from Google that allows for one universal code placed across the site. Better yet, with Google Tag Manager you can get this implemented without even bothering IT.
Once the tag is placed you can create lists (audience segments) based on pages users have visited within your site. For example, to build a list of shopping cart abandoners your setup would look similar to this: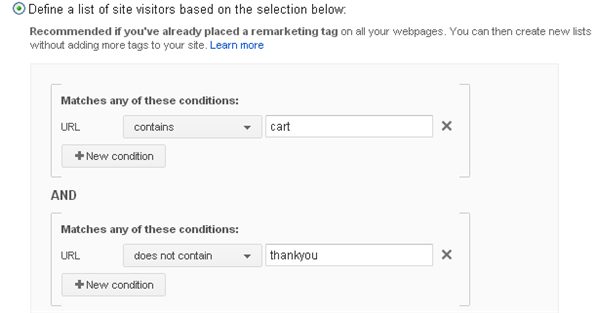 Leverage Google Analytics Data
As of August 2012 Google released remarketing for Analytics. The implementation requires a simple one line code change to your existing Google Analytics code. You can locate the remarketing lists interface from the Admin tab within Google Analytics:

From here you can create remarketing lists based on many metrics and dimensions that are not available using Adwords alone. The options are almost limitless, but a good place to start is with visitor duration. Visitors who bounce quickly are less likely to be lured back to complete a sale, so excluding or segmenting them is a useful strategy. The specific visitor duration you select will vary based on your unique site and audience, but in this example a list is setup to include those visitors who spend at least 2 minutes on the site.
Reference the provided diagram to see what percentage of your audience remains after the filter. Use the "Get estimate" button to find out the specific number of visitors available. You'll need a minimum of 1,000 unique visitors per list according to Google Analytics policy.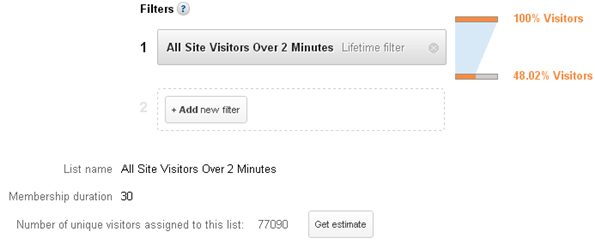 Maintain Balance
There are a lot of options for excluding and segmenting your site visitor audience for remarketing. While it's important to implement some form of the discussed tactics, it's also important not to overdo it. The more you limit ad serving, the less potential you have capitalize on this valuable audience. Also, keep your list segments large enough so that they will generate meaningful impressions and clicks. As always, continue testing until you find the specifics that work best for your particular site and audience.