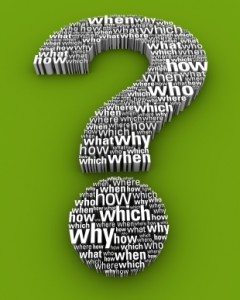 For those of you who follow Facebook releases religiously this is big news. Today, Facebook announced a new beta feature, that being, Facebook questions. The premise of  Facebook Questions is fairly straightforward. But because we are a company specializing in organic search engine optimization, I feel that it is important we evaluate the new development through an SEO filter. However, before we get into that let me tell you a little bit about this new Facebook element.
What are Facebook Questions?
Facebook Questions are simply a basic Q&A feature developed by Facebook. The new feature will be similar to sites such as Yahoo Answers, Ask and Wiki Answers. The main purpose of the feature is to allow a platform for users to Q&A on the Facebook site. The questions which are asked will be broadcast with the same distribution as a wall post would enjoy.
Who Cares?
Who cares? I mean seriously, is this a revolutionary feature? I think not. Seeming to agree with my sentiment, there is a note on the Facebook apps page stating, "We think it will be as exciting as Facebook Photos and Facebook Events…" Both of which, while important, are not at all amazing, although I will say that the photo sharing element is pretty cool… The issue is that the Facebook questions functionality already exists to some degree. You can easily ask a question on your Facebook wall anytime. In fact, it is one of the main strategies to stimulate interaction.
Facebook Questions & Search Engine Optimization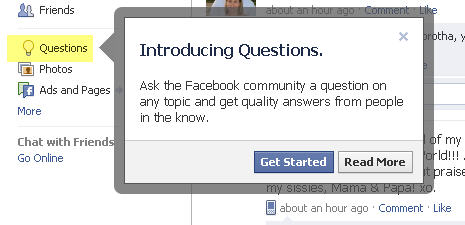 While Facebook Question may not appear to be mind-blowing from a view of functionality, it sure does have some big implications from a search engine marketing standpoint. One reason why information sites like Yahoo Answers, Wiki Answers, Ask, etc, are so popular is because they provide relevant, searchable information. By creating this feature, Facebook will be stimulating a whole new type of searchable discussion. For instance, if you have a business page for a computer product and ask consumers a question like, "How to Pick to the Perfect Computer?" this will be creating new content, which by being backed by the authority of the Facebook site could eventually command good search traffic. This has the possibility of allowing Facebook to achieve longtail rankings for the querys surrounding these questions. In addition, it gives SEOs the opportunity to optimize Facebook pages for this type of content. Of course there are more things to consider in this section but for time sake I will stop here.
Future of Facebook Questions
As of right now we have no idea what the future has in store for Facebook Questions, I mean let's be honest, it hasn't even been launched yet and it is still in beta testing so what can we really know? As with most Internet based features we really won't know much about it until we can actually try it. While this is true, one thing is for sure, Facebook Questions has many implications from a social media marketing and search engine optimization perspective. But only time will tell what it really has to offer.
What do you think about Facebook Questions? Leave a comment below!